Talcum Powder Use by Adult Women Linked to Increased Risk of Ovarian Cancer
Ovarian cancer has been linked to use of popular talcum powder-based products, such as Johnson's Baby Powder™ and Shower to Shower Body Powder™, adult women under 40. As little as 4 years of regular use of use of talcum powder for perineal dusting can substantially increase the risk of ovarian cancer in adult women.
Talcum Powder Ovarian Cancer Studies Have Existed for Decades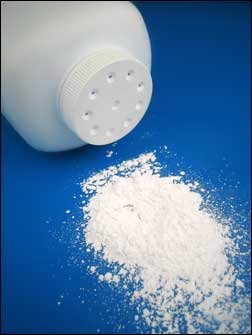 The first medical studies warning of an increased risk of cancer from talcum powder risk date back to the 1970's.    In 1992 The Journal of Obstetrics and Gynecology published a study that found weekly use of talcum powder products increases the risk of ovarian cancer by three times.  Five years later that finding was affirmed by the American Journal of Epidemiology.In 2003 a meta-analysis of 16 previously published studies with data from almost 12,000 women concluded that perineal baby powder use increases the risk of ovarian cancer by one-third.   Five years after that, Harvard epidemiologist Dr. Margaret Gates confirms the one-third increase and, along with two other Harvard researchers, publishes a study in Cancer Epidemiology, Biomarkers and Prevention providing additional documentation of the risks of cancer from talc particles in baby and body powders.Despite decades of medical research by professionals with impeccable credentials, talcum powder-based baby and body powders remain on the shelves of virtually every drug and grocery store in America.    Another Harvard epidemiologist, Dr. Daniel Cramer, estimates that as many as 10,000 women per year contract ovarian cancer from talcum powder use.
Talcum Powder Ovarian Cancer Lawsuits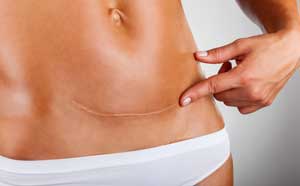 In 2013 Johnson & Johnson lost the first talcum powder cancer lawsuit to a woman diagnosed with ovarian cancer after using baby powder.    In the course of the lawsuit, Johnson & Johnson admitted to being aware of the studies demonstrating the link between talcum powder and increased ovarian cancer risk, but didn't believe the evidence to rise to the level where a warning was warranted.   The plaintiff in this talcum powder lawsuit stated that she would not have used the product if such a warning was present.   Johnson & Johnson and its subsidiaries have faced a number of lawsuits in recent years.   The company agreed to pay over $2.5 billion dollars to settle a number of lawsuits over DePuy ASR hip replacement systems, which were recalled three years earlier.  The Onder Law Firm believes Johnson & Johnson had a duty to at the very least provide this information to the users of its products and that by failing to do this it must be held responsible.
More information on ovarian cancer from talcum powder can be found at The Onder Law Firm's Talcum Powder Ovarian Cancer website at www.talcumpowdercancerlawsuitcenter.com.