Children's Products Safety Attorneys Help Families
Childhood is meant to be a time of innocence and fun, play and exploration. But too many companies put profits ahead of safety, selling products that pose a safety risk to kids. Each year, many children are seriously injured or killed when a flawed commercial product leads to an accident. Federal safety regulations play a role in helping to ensure that children's products are safe, but regulations can't be created fast enough to prevent every accident. Companies that make children's products need to maintain high safety standards, and must notify customers promptly when a hazard is detected. Consumers can help send a strong message to companies about product safety by supporting the companies with good safety records, and reporting hazards they experience. Our hearts go out to any family that has seen their child be harmed by a consumer product. We strive to bring justice to their cases and stand beside them as they call for business leaders to recall unsafe products before children become hurt in the first place. Dangerous children's products can be grouped in the following categories:
Clothing
Even something as basic as clothing can turn out to be a safety hazard for children. Clothing dangers may be related to the contents of the fabric, to an aspect of the garment's design, or to small parts that can detach such as decorative items, buttons, or buckles. Federal regulations govern the contents and construction of clothing in order to lower the flammability rating of articles of clothing. Pajamas, in particular, are the regular focus of flammability standards violations, while items such as hooded sweatshirts, coats and shoes may have small pieces that, when detached, can become choking hazards. Items with drawstrings or toggles have, in some cases, caused children to strangle. Read more to learn about what clothing items are most dangerous, how to find a children's clothing safety attorney, or what you can expect from a children's clothing safety lawsuit.
Furniture
We'd like to think, as parents, that our kids are perfectly safe when they are at home, in bed. However, beds in particular along with other types of furniture actually pose some of the most serious risks children face within our homes. Injuries that happen to children related to furniture may occur because the design is simply unsafe, or because the item is prone to breaking or is commonly misassembled. Whatever the cause, if a child is harmed or killed because of a flaw with a piece of household furniture, the company responsible for the item should be held accountable. All too often, companies receive reports of safety problems with their products, but only issue a recall when a child has been killed or profits are dropping. You'll learn more in this section about what types of furniture have been recalled, where to find out if a specific item has been found to be dangerous, and who to talk to about a children's furniture safety lawyer.
Play Structures
Comforting a child who has taken a fall off the monkey bars is a normal part of parenting, but having a child become injured on a play structure because of a defective product or unsafe design is completely unacceptable. Play structures have become safer over the past few decades, but occasionally, we still see a seriously flawed product hit the market. Dangerous safety equipment can lead to serious injuries to children. This section describes how to know if your play structure is defective, who to contact for a play structure safety lawyer, and what grounds you may have for a play structure safety lawsuit.
Sports Equipment
Sports and outdoor activities are another area in which kids will inevitably get hurt, but the equipment they use should help to make them safer rather than put them into danger. When a bicycle or other device fails, a child traveling at high speed may sustain serious injuries. Items that children ride on must be constructed to withstand rough play, bad weather, and normal wear and tear. Furthermore, they must be tested for safety before they are given to innocent kids to play with. In this section, you'll learn about which types of sports equipment has been recalled, what types of accidents may qualify for a sports equipment safety lawsuit, and where to consult with a sports equipment safety attorney.
Toys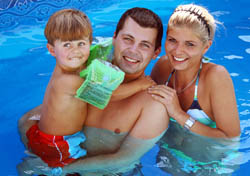 Parents take pride in watching their children learn and grow. We try to help our children learn important concepts and skills by giving them toys that we think will help their development. We also give our children toys that are just plain fun, and we rely on trusted brands to provide safe and age-appropriate toys throughout childhood. Sadly, some toys are actually dangerous, exposing children to toxic substances and causing serious injuries and death to young children. Numerous recalls over the past decade have shown that even the most popular brands are susceptible to developing hazardous toys and issuing safety recalls. Toys may pose risks of suffocation, choking, burns and other serious and life threatening injuries. This section describes where to find toy safety information, how to report an accident related to an unsafe toy, and who to contact for a toy safety lawsuit consultation.